ISIA Badge Test
Hakuba47 Ski Academy International gives our guests International Ski Instructors Association (ISIA) badge tests on request. Bring back your badge with your trip memory.
Time: 15:30 at School Centre
(Please book by 12:30 on the day.)
Junior International Test (upto 15 yrs old)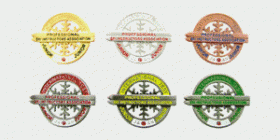 Q1: Who can take the Junior International Test?
A1: Anyone who is under 15 years old can take this test.
Q2: What ability level does my child need to be? My 4 years old boy has just started to hold a snowplough glide.
A2: Yes, he can take the test. The badges begin at the very basics and progress to short, parallel turns. The levels are as follows:
・Green: start and stop completely
・Yellow: snowplow
・Red: stem christie turn
・Bronze: parallel turn (long)
・Silver: parallel turn (long) & (short basic)
・Gold: parallel turn long, short and mixed rhythm
Q3: How much does it cost to take the test?
A3: It's 1,540 yen per person. The tests can be taken during private lessons.
The certification and medal fees are from 1,230 to 1,440 depending on the badge color.
Q4: I don't know which badge test should my kid take.
A4: Ski instructors from Hakuba47 Ski Academy give you the advice on which badge test your kid should take during the lessons.
International Test (anyone)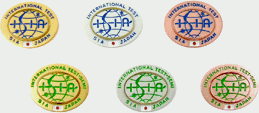 Anyone under 15 that has achieved the gold badge may then challenge the SIA International awards as below:
・SIA is a member of International Ski Instructors Association.
http://www.isiaski.org/en/index.html
Don't miss out on this opportunity for your kids and even for yourself to gain official ski awards during your time in Hakuba.